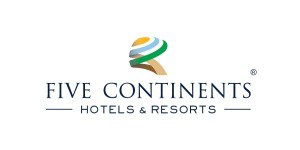 REGIONAL GENERAL MANAGER
August 2013-December 2014
A New Experience…
In August 2013 I was approached by the Managing Director of Five Continents Hotels & Resorts based in the United Arab Emirates regarding the role of Regional General Manager for the portfolio of three hotels under their management. The hotels were in Dubai, Abu Dhabi and Ras Al Khaimah with a total of 520 bedrooms. The group was a start-up business just over a year old with significant operational and Board issues. Following a site visit, I was able to start work almost immediately, however, was now additionally required to operate the flagship property as General Manager and assist in the Board in the strategic management of the portfolio.
Welcome to Five Continents!
Shortly after starting all Cluster staff were put under my direct control with Leisure Sales only retained by the Directors. These included Revenue Director, Human Resources Director, Food & Beverage Director, Rooms Director and their teams. As part of the induction process I was also required to oversee the group-wide roll-out of a new Property Management System – Prologic – which incorporated Front of House, Back of House, Central Reservations and Human Resource functions. I was also able to introduce the latest web-based consumer reporting system into the operation of the hotels – ReviewPro.
In terms of the corporate marketing, it was apparent that despite a strong visual logo little progress had been made in the development of the brands, collateral, website, identity or social media. Over the next 9 months, brand discipline was achieved which culminated in the launch of a website managed internally with a developing social media and communications presence on the web.
During the same period, the sales teams were brought under my management with regular meetings and goal settings in a challenging year for Dubai hotels – the Russia/Ukraine customer base was significantly weakened and revised strategies were required to attract new business in the worlds most competitive hotel market. The net result was a high level of occupancy from Corporate, Online Travel Agents and Emerging Markets which more than compensated for the slow rate growth over the crucial summer period.
The role finished with the transition of the flagship hotel in Dubai to the Owner in November 2014.
ACHIEVEMENTS
Creation & implementation of Brand Strategy
Social Media and Communications Strategy
Customer Relations review programme installed
Group sales co-ordination and objective setting
The transition of hotels to new management
Representing the hotels to the Five Continents Directors, Property Owners and Banks
[ngg src="galleries" ids="1″ display="basic_slideshow"]